Notice Board
Photo Gallery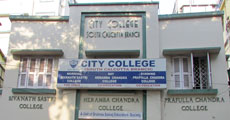 Academic Calendar
2016-2017
Computer COURSES
In the year 1993, 27 March, Late Dr. Karuna Sen, President, Brahmo Samaj Education Society and Ex-Vice Chancellor of Kalyani University, inaugurated the Arun Sen Computer Information Institute (ASCII).

The centre is situated inside the College campus in a separate Air Conditioned room with sufficient number of computers for the use of students.

Facilities Offered
The Arun Sen Computer Information Institute (ASCII), run in technical collaboration with ICE(I), is recognised by DOEACC 'A' level and CCC course and the certificates issued by this centre is recognised by the Directorate of Employment, Govt. of W.B. The courses of the computer centre have been designed to train students in computer technology by an efficient group of teachers at an affordable rate of fee. A computer centre committee with Teacher-in-Charge of the college as the Chairman is looking after the affairs of the centre.
Tender Notice
Placement Notice
Important Links
PROSPECTUS
2016-2017